As some might know, if you launch Adium while holding Option, you will get a "choose profile" window, where you can load different "profiles," such that Adium can be used by multiple users without resorting to making multiple OS X accounts on the computer.
main window: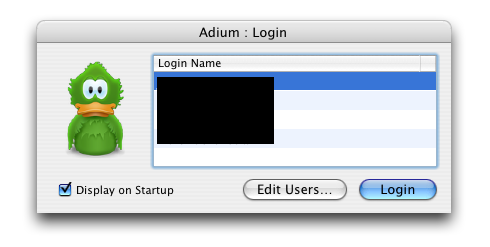 "Edit Users" dialog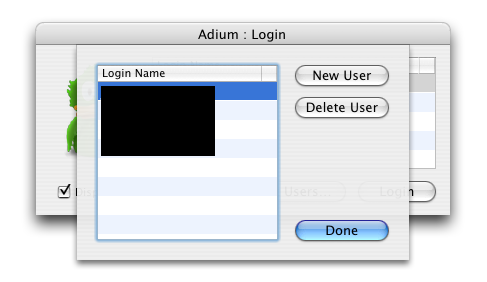 Here are some bugs/quirks I've noticed:
1)
In the main window, if you have a profile/user selected, double-clicking anywhere within that list (including the bar with "Login Name" at the top) will act as a double-click on the selected profile/user.
e.g. You have profile #1 selected. You double-click the empty space in the list (or "Login Name"), and profile #1 will open, as if you've double-clicked profile #1.
2)
In the "Edit Users" dialog, let's say you double-click a profile/user to rename it. Then you click "Done."
You return to the main window. But that user hasn't been renamed yet!
If you click "Edit Users" to return to the dialog again, you'll see that that user will still be in "rename mode."
You have to make sure, while in "Edit Users," to click on another profile/user or empty space or press Return in order to have the new name apply.
3)
In the "Edit Users" dialog, if you rename a profile/user, then press Return, the "cursor" will jump to the next profile/user in "rename mode." (and it loops back to the first one after the last one)
IMO, it should behave more like renaming files in the Finder, or the bookmarks manager in Safari. Pressing Return should accept the change, then stop "rename mode" and keep the "cursor" on the same selection.